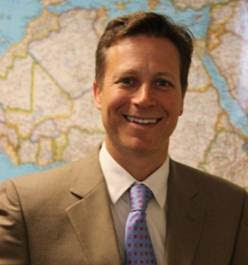 It's been a fantastic end of our summer and first few weeks of fall. So much has happened in the last several months: In case you missed the news, President Obama highlighted Power Africa in his speech at the U.S.-Africa Business Forum in New York City where we also announced more than $1 billion in new commitments to real deals, we released our Annual Report and the new Power Africa video, we added Japan as a new Power Africa partner, and the MCC Compact in Ghana entered into force on Sept. 6!
---
Four Lessons from Power Africa
Dozens of African heads of state and CEOs from the United States and Africa gathered in New York City last month for the U.S.-Africa Business Forum — three years after President Obama launched 
Power Africa
, a U.S. government-led partnership that aims to double access to electricity in sub-Saharan Africa. Here are four key lessons we've learned.  
---

The Floating Gas Plant that Powers Rwanda
In Rwanda, there is a lake with a floating barge in the center that is bringing power to homes and businesses. This barge holds the world's largest methane gas extraction plant — called KivuWatt. The plant works by pulling the gas from the bottom of Lake Kivu and converting it into electricity, a remarkable feat of engineering. 
---

Power Africa Film Launched During U.S.-Africa Business Forum
Power Africa is pleased to present a new film that shows the breadth of the work of the presidential initiative over the past three years. This short video showcases a variety of projects in sub-Saharan Africa where Power Africa is working to double access to electricity by 2030.
The video features the results of:
Power Africa partner ContourGlobal's Kivuwatt floating methane extraction plant, which benefited from advocacy by the U.S. Departments of State and Commerce.

U.S. Trade and Development Agency (USTDA) grants for mini-hydro projects.

Power Africa partner Gigawatt Global's development of the first grid-scale solar project in East Africa.

The innovative work that our Beyond the Grid partners BBOX and Mobisol are doing to add thousands of people who live "Beyond the Grid."
Video Transcript 
0:01 With every light that turns on, a path is illuminated.
0:06" When you put some installations, like in the darkness, everybody there in the family
0:11 gets excited."
0:14 Access to electricity is opportunity.
0:17I t's the flip of a switch that allows a business to thrive.
0:22 Relief for a worried mother.
0:25 The spark that fuels the next big idea.
0:28 And it's the connection that's needed to plug Africa into the global economy.
0:34 Power Africa, a U.S.
0:36 Government-led partnership, is creating that connection,
0:40 doubling access to electricity in sub Saharan Africa,
0:44 using the rich resources of the African sun, wind, streams, lakes and natural gas,
0:52i nvesting in technologies that expand the grid and reach beyond power lines.
0:58 Thanks to Power Africa, the rushing waters of a river will light a town.
1:03 Students can count on solar fields to light their path.
1:07 And the bubbling gas under an African Great Lake fuels the only floating methane extraction
1:14 plant in the world.
1:17 Power Africa brings together the greatest innovators, top companies, and countries to
1:23 spur Africa's energy revolution.
1:26 With these partnerships, we've mobilized billions of dollars in investment, and broken
1:32 down barriers to speed up power projects.
1:35 Our work is shining a light on an untapped market, and investors are taking notice.
1:42 Power Africa will generate 30,000 more megawatts of electricity and electrify another 60 million
1:49 homes and businesses.
1:50 It's ambitious, but achievable.
1:54 "There's nothing more exciting than being present when our customers turn on their lights
1:59 or their TVs."
2:00 And by teaching the next generation, Africa will lead its energy future.
2:06 "If more kids become engineers, with the necessary tools, they can transform Africa."
2:12 The future is bright.
2:15 Join us.
---
Read the latest global media coverage of Power Africa, our partners, and the African energy sector. > Read More
---
Track power projects as they progress through the development pipeline. >Download for your ​Apple device.
---
Power Africa's Annual Report highlights the progress made in the second year, lessons learned, and the roadmap to a brighter African future. > Download the Report
---
Power Africa's Toolbox, now online, provides the resources needed to unlock the power and opportunity of sub-Saharan Africa. > View the Full Toolbox
---
Power Africa's growing photo gallery, with entries from our recent photo contest, features the work of our partners across sub-Saharan Africa. Explore the Gallery
September 2016 Newsletter