The invasive species mesquite wood - known in Kenya as "mathenge weed" - is a renewable energy feed source used in Cummins Cogeneration Kenya Limited (CCKL) 12MW biomass-fueled, on-grid electricity generation project in Baringo County, Kenya. The project's biomass gasification technology converts biomass into three components: electricity; waste heat; and residual biochar. The Baringo project will remove the invasive weed from the region, eradicate desertification of the land, and will not compete for land versus agricultural use. The project will open up land for pastoralists and agriculture while creating local jobs. CCKL is a global joint-venture between USA-based Cummins and UK-based Gentech, an engineering, procurement, and construction contractor.
Based on the first year of success of Power Africa, in August 2014 at the US-African Leaders Summit, President Obama expanded the goals of the initiative increasing the long term objectives to 30,000 Megawatts and 60 million new home and business connections throughout all of sub-Saharan Africa. Coordinator for Power Africa, Andrew M. Herscowitz outlines how Power Africa and its partners are working to meet the new goals and what the initiative has been doing to make even more impact.
> Read More
---
Interview with Alex Rugamba, Director of Energy, Environment and Climate Change Department , African Development Bank
Working together, Power Africa and the African Development Bank (AfDB) are increasing in clean energy development projects across the continent.
The African Development Bank (AfDB) is a Power Africa partner. Working together, Power Africa and AfDB are increasing in clean energy development projects across the continent. In this quarterly newsletter we sit down with Alex Rugamba, Director of Energy, Environment and Climate Change with AfDB and discuss the challenges to Africa's growth strategy, how the partnership will work together to address Africa's energy deficit, and AfDB's role in financing energy projects.
> Read more
---
The second round of the US African Development Foundation/USAID/General Electric "Off Grid Energy Challenge" led to 22 new winners gaining the opportunity to help increase electricity access to their communities across sub-Saharan Africa. Of the nearly 300 applicants, five winners are from Kenya, four from Tanzania, four from Nigeria, three from Ghana, three from Ethiopia and three from Liberia. The second round winners will each receive $100,000 based upon their innovative project designs targeted towards increasing electricity access.
> Read more
---
Peter Ballinger, Director of Business Development at OPIC, discusses the challenge to supply reliable electricity to communities in African nations who aren't on the grid. Ballinger leads the U.S. Africa Energy Development and Finance Center in Johannesburg, South Africa and in his work supporting business development across the continent, he has seen both the urgent need for more electricity as well as some promising solutions to deliver it.
> Read more
---
Between 2010 and 2040, it is estimated that Africa's energy demand will grow by 85 percent. While new power generation and associated infrastructure are critical to bridging the gap between energy supply and demand, the role of energy efficiency as a least-cost energy resource is critical to reducing overall demand, decreasing the need for expensive peak capacity, and allowing electricity supply to be expanded to meet increasing demand in a timely, low-cost, and sustainable way.
Five authors from the Department of Energy, Millennium Challenge Corporation (MCC), and the U.S. Department of Treasury outline where energy efficiency is working in Africa and how Power Africa partners can build on these models.
> Read More
---
Beyond the Grid partner Solar Sister describes its work
Valentina Tiem from Hydom, Tanzania is responsible for mobilizing women in over twenty women's savings groups. She also works as a community health worker, helping local women with childbirth.
As an entrepreneur she works with Solar Sister, a founding partner of Power Africa's Beyond the Grid initiative, bringing life transforming solar and clean cooking solutions to her customer's doorsteps. The income she earns from her clean energy business to pay school fees for her children and to buy cement for construction of her house. She's got her hands full, but she does it because she wants to make her community stronger.
> Read more
---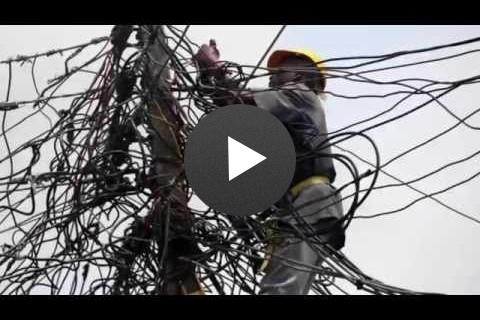 The Electricity 101 video for Power Africa explains key pillars of the power sector in the context of sub-Saharan Africa, and helps viewers understand the basics and challenges of the electricity sector in developing countries. Topics include a comprehensive overview of the power sector, including detailed explanations of generation transmission, distribution and pricing of electricity.
> Watch the Video
---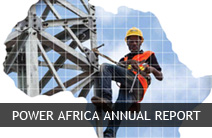 Since President Obama announced the Power Africa initiative in June of 2013, a great deal of progress has been made.
This 88 page report reviews the Power Africa goals, model, accomplishments, and next steps for the initiative.
Read Power Africa's 2013-2014 Annual Report
---
Power Africa is serving as a Sponsoring Partner for EnergyNet's Powering Africa Summit in Washington, DC from January 28 - 30, 2015.
Learn more about the event
---
Power Africa News
Recent Announcements
Climatescope report released: Mapping the Global Frontiers for Clean Energy Investment
October 28, 2014 | Bloomberg New Energy Finance Press Release
Let There Be LightWashington's Ambitious Plan to Help Africa Generate Electricity
September 2 | Foreign Affairs
Opinion: U.S.-Africa Leaders Summit - Notable Progress, but Work Remains - Tony Elumelu
August 19 | The Chronicle
Video: Pritzker, Bloomberg See Deals at U.S.- Africa Forum
August 5 | Bloomberg
From USAID
Power Africa / Trade Africa Issue
September / October | USAID FrontLines
Energy in Africa
Africa's Largest Wind Farm Enters Construction Phase
November 6 | Ventures Africa
Shift to 'green economy' boosting economic growth in Ethiopia
October | African Manager
Ghana To Get Utility-Scale Wind Farm
October 2 | Spyghana.com
Kenya: Cheaper Energy Could Spur Industrial Revolution
October 11 | The Star
Nigeria: Sector Set to Enter Transitional Electricity Market
October 14 | The Guardian
Tanzania: Rural Electrification Drive Gets Major Boost
October 9 | Tanzania Daily News
View more news related items at Power Africa Newsroom