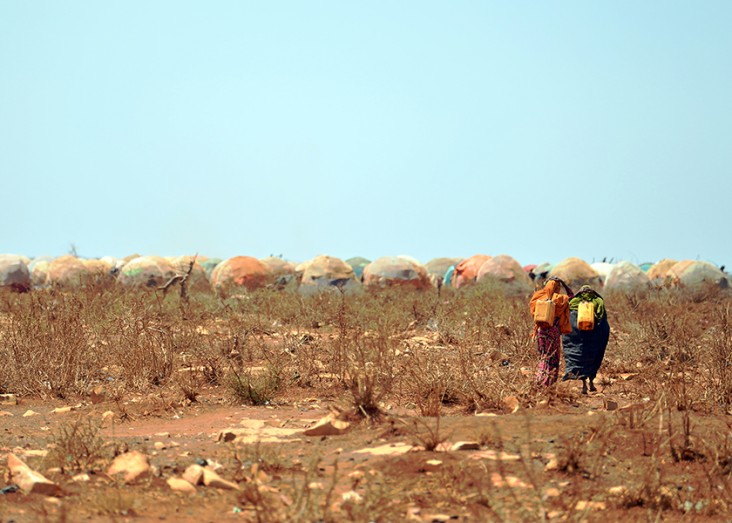 Latest Horn of Africa Fact Sheet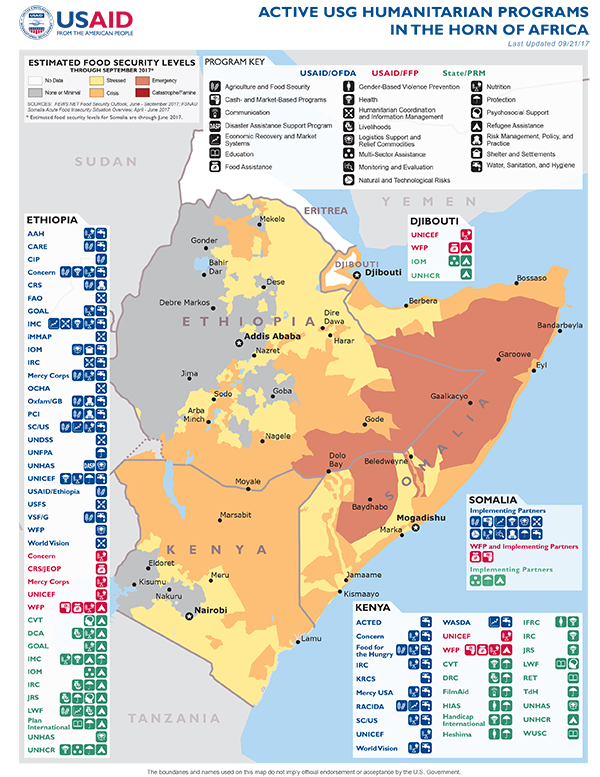 Horn of Africa Map - 09-21-2017
(pdf - 505k)
view text version [pdf, 225kb]
Key Developments
USAID's Office of U.S. Foreign Disaster Assistance (USAID/OFDA) is responding to the complex emergency in the Horn of Africa region, including in Ethiopia, Kenya, and Somalia.
Post-gu seasonal assessments indicate that while Famine—IPC 5—levels of acute food insecurity have been averted in Somalia, the risk of Famine persists through December for internally displaced persons and other vulnerable populations in the worst-affected areas of Somalia. In addition, an estimated 3.1 million people are expected to face Crisis—IPC 3—or Emergency—IPC 4—levels of acute food insecurity through December, with an estimated 6.2 million people likely to require humanitarian assistance, according to the USAID-funded Famine Early Warning Systems Network and Food Security and Nutrition Analysis Unit–Somalia. The post-gu seasonal assessment also identified deteriorating nutrition conditions across Somalia, with the countrywide median global acute malnutrition rate increasing from 14.5 percent in the 2016 post-gu seasonal assessment to 17.4 percent in 2017.
On September 21, USAID Administrator Mark Green announced nearly $69.2 million in new U.S. government (USG) funding to support critical relief interventions in Somalia and for Somali refugees. In total, in FY 2017 the USG has contributed $462 million to support vulnerable populations in Somalia and Somali refugees in neighboring countries.
Please visit our Horn of Africa web page for additional information.
Background
Since 1991, Somalia has experienced a persistent complex emergency due to chronic food insecurity, widespread violence, and recurrent droughts and floods. The 2011 drought—widely regarded as the country's worst in 60 years—severely deteriorated food security among pastoralists and populations in marginal farming areas, resulting in famine in areas of Bay, Bakool, and Lower and Middle Shabelle regions, as well as among internally displaced persons in Mogadishu and the nearby Afgooye corridor.
Despite modest improvements in recent years, malnutrition rates in Somalia remain among the highest in the world, and ongoing insecurity in the country—particularly in areas that lack established local authorities and where al-Shabaab is present—contributes to the complex emergency. Sustained life-saving assistance, coupled with interventions aimed at building resilience, is critical to help vulnerable households meet basic needs, reduce malnutrition, and protect livelihoods. An estimated 6.7 million people require humanitarian assistance between January and December 2017.