Latest Horn of Africa Fact Sheet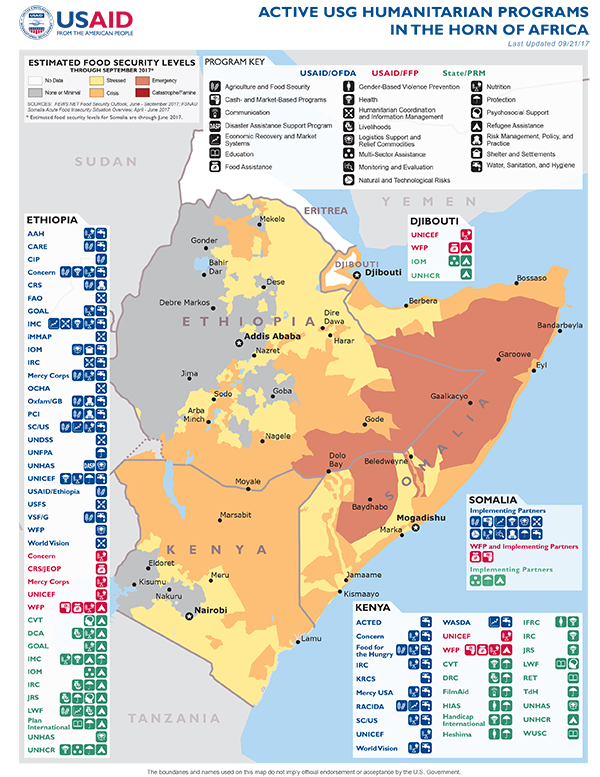 Horn of Africa Map - 09-21-2017
(pdf - 505k)
view text version [pdf, 225kb]
Key Developments
USAID's Office of U.S. Foreign Disaster Assistance (USAID/OFDA) is responding to the complex emergency in the Horn of Africa region, including in Ethiopia, Kenya, and Somalia.
The UN released a revised flash appeal for Kenya on September 7 calling for approximately $106 million in additional humanitarian funding for September to December, bringing the total requested funding for 2017 to $271.7 million. The revised flash appeal targets 1.9 million of the 5.6 million people expected to require assistance between September and December.
The ongoing nurses' strike, prompted by demands for increased wages and other employment benefits, continues to adversely affect health and nutrition services in Kenya, according to relief actors. The UN Children's Fund (UNICEF) reports that 50 to 80 percent of health facilities in six drought-affected counties are non-operational as of September. In Garissa and Turkana counties, immunization rates in June and July declined by 50 percent compared to January–May rates, while antenatal care and skilled birth attendance rates dropped by 30 percent during the same period. In response to the limited health care capacity, authorities in the arid and semi-arid lands counties have implemented certain mitigation measures, including provision of daily stipends for nurses to run maternity centers and increased outreach services by relief actors, UNICEF reports.
Please visit our Horn of Africa web page for additional information.
Background
In Kenya, drought conditions have exacerbated chronic stressors, including food insecurity and malnutrition. Through ongoing programs, USAID/OFDA and USAID/FFP are supporting efforts to strengthen health and nutrition systems in drought-affected areas in coordination with USAID/Kenya resilience initiatives to mitigate the effects of recurrent natural hazards. In addition, vvulnerable populations across Kenya continue to confront several other challenges—including seasonal flooding, localized inter-communal conflict, disease outbreaks, and limited access to health and water, sanitation, and hygiene services—that contribute to sustained humanitarian needs in Kenya.