Latest Horn of
Africa Fact Sheet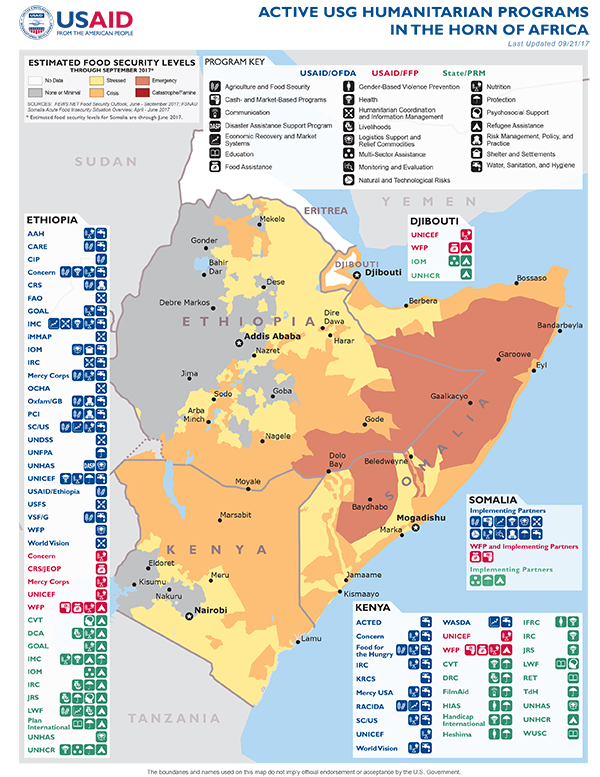 Horn of Africa Map - 09-21-2017
(pdf - 505k)
view text version [pdf, 225kb]
Key Developments
USAID's Office of U.S. Foreign Disaster Assistance (USAID/OFDA) is responding to the complex emergency in the Horn of Africa region, including in Ethiopia, Kenya, and Somalia.
Post-gu seasonal assessments indicate that while Famine—IPC 5—levels of acute food insecurity have been averted in Somalia, the risk of Famine persists through December for internally displaced persons and other vulnerable populations in the worst-affected areas of Somalia.4 In addition, an estimated 3.1 million people are expected to face Crisis—IPC 3—or Emergency—IPC 4—levels of acute food insecurity through December, with an estimated 6.2 million people likely to require humanitarian assistance, according to the USAID-funded Famine Early Warning Systems Network and Food Security and Nutrition Analysis Unit–Somalia.
On September 21, USAID Administrator Mark Green announced nearly $69.2 million in new U.S. government (USG) funding to support critical relief interventions in Somalia and for Somali refugees. In total, in FY 2017 the USG has contributed $462 million to support vulnerable populations in Somalia and Somali refugees in neighboring countries.
The UN released a revised flash appeal for Kenya on September 7 calling for approximately $106 million in additional humanitarian funding for September to December, bringing the total requested funding for 2017 to $271.7 million. The revised flash appeal targets 1.9 million of the 5.6 million people expected to require assistance between September and December.