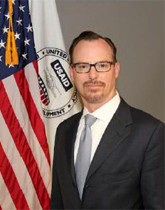 Acting Assistant Administrator
Robert Jenkins is the Acting Assistant Administrator for the U.S. Agency for International Development's Bureau for Democracy, Conflict, and Humanitarian Assistance (DCHA).
Previously, Mr. Jenkins served as the Director of the Office of Transition Initiatives (DCHA/OTI), the United States Government's foremost political transition and post-conflict assistance instrument. DCHA/OTI's mandate is to help local partners advance peace and democracy in priority countries in crisis. DCHA/OTI has carried out over 50 political transition and stability programs in high priority countries including Afghanistan, Colombia, and Sudan.
Mr. Jenkins was DCHA/OTI's Acting Director since April 2006 and the Deputy Director since May 2005. A career civil servant, he was seconded to the U.S. State Department where he served as Deputy Coordinator for Reconstruction and Stabilization at the Office of the Coordinator for Reconstruction & Stabilization (S/CRS) from July-December 2009.
Mr. Jenkins also served as USAID's Acting Deputy Assistant Administrator for the DCHA Bureau from August 2008 until January 2009. Before assuming these leadership roles, Mr. Jenkins served as OTI's Operations Coordinator and Iraq Team Leader. He first joined DCHA/OTI in March 1998 and has provided Washingtonbased support to DCHA/OTI's programs in Iraq, Macedonia, Serbia and Montenegro, Kosovo, Sierra Leone, Liberia, and Nigeria.
Prior to joining USAID, Mr. Jenkins designed and implemented emergency relief and recovery programs with World Vision International in southern Sudan and Sierra Leone. As a Thomas J. Watson Fellow he worked under Archbishop Desmond Tutu in Cape Town, South Africa from 1991 to 1993 as a liaison between the Anglican Church's peace and justice office and township communities. His work included coordinating a network of volunteer political violence monitors and serving as an on-call independent observer, investigative monitor and emergency crisis mediator.
Mr. Jenkins holds a B.A. in History and Government from Bowdoin College.