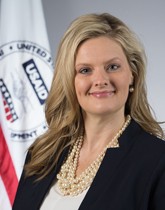 Acting Assistant Administrator
Michelle Bekkering serves as the Acting Assistant Administrator of the Bureau for Economic Growth, Education and Environment (E3). She joined USAID in July 2017. E3 provides Agency-wide technical leadership, research and field support in twelve technical sectors; providing innovative and sustainable solutions to accelerate USAID's collective impact in reaching its development outcomes.
Ms. Bekkering concurrently serves as the Agency's Senior Coordinator for Gender Equality and Women's Empowerment. In this capacity, she oversees the Gender Equality and Women's Empowerment portfolio for the Agency. USAID focuses on reducing gender disparities and gender-based violence, and on increasing the capacity of women and girls to realize their rights, determine their life outcomes, and influence decision-making.
Prior to joining USAID, Bekkering was the Director for Global Initiatives and Senior Gender Advisor at the International Republican Institute (IRI). In that position, Bekkering managed cross-sectoral global programs with a focus on parliamentary strengthening, people-to-people exchanges, leadership development initiatives, and the political inclusion of women and youth. At the same time, Bekkering served as the Institute's senior gender advisor, providing strategic leadership, technical assistance and training for IRI's initiatives to promote women's empowerment and gender equality.
Bekkering joined IRI in 2005 to provide leadership to Institute initiatives in Washington, D.C. and abroad, including by serving as residential country director for the Institute based in Indonesia.During her time at IRI, Bekkering represented the Institute as a trainer, speaker and accredited election observer on five continents. She also served as guest lecturer for the Gender Equality Course at the U.S. State Department's Foreign Service Institute, and as a member of the U.S. State Department's Speakers and Specialists Program.
Bekkering has also served in numerous positions in the U.S. Government. She worked in the European and Eurasian Affairs Directorate of the National Security Council under President George W. Bush. She also worked on Capitol Hill as an aide to Congressman Dana Rohrabacher (CA-46).
A native of Iowa, Bekkering graduated from Dordt College in Sioux Center, Iowa. As part of her education, she studied at the Vrije Universiteit in Amsterdam, The Netherlands.