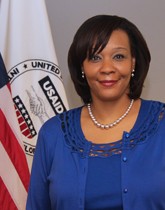 Acting Assistant Administrator
Angelique Crumbly is the Acting Assistant Administrator for the Bureau for Management.  She has served 20 years in the public sector, most recently in the U.S. Government Senior Executive Service as the Senior Deputy Assistant Administrator for Management.  
As the head of the Bureau for Management, Ms. Crumbly has oversight of the Offices of the Chief Information Officer, Chief Financial Officer, Acquisition and Assistance, Management Policy and Budget and Performance, and Management Services, with a staff totaling approximately 1,040.
Ms. Crumbly has served in key positions throughout USAID, including as a procurement analyst and contract specialist in the Office of Acquisition and Assistance; as chief of the Policy and Technical Division in the Office of Food for Peace; as senior advisor to the Agency counselor and officer-in-charge of the Management Bureau; as director of the Office of Management Policy, Budget and Performance (MPBP); and most recently, as the senior deputy assistant administrator in the Bureau for Management.
Ms. Crumbly has led management reviews, cost savings and streamlining initiatives resulting in the creation of sound business policies and management systems. She is responsible for managing the formation of the Agency's operational budget and execution of the agency's programmatic budget. 
She holds a Bachelor's degree in International Politics from George Washington University and a Master's degree in Public Management from Georgetown University.