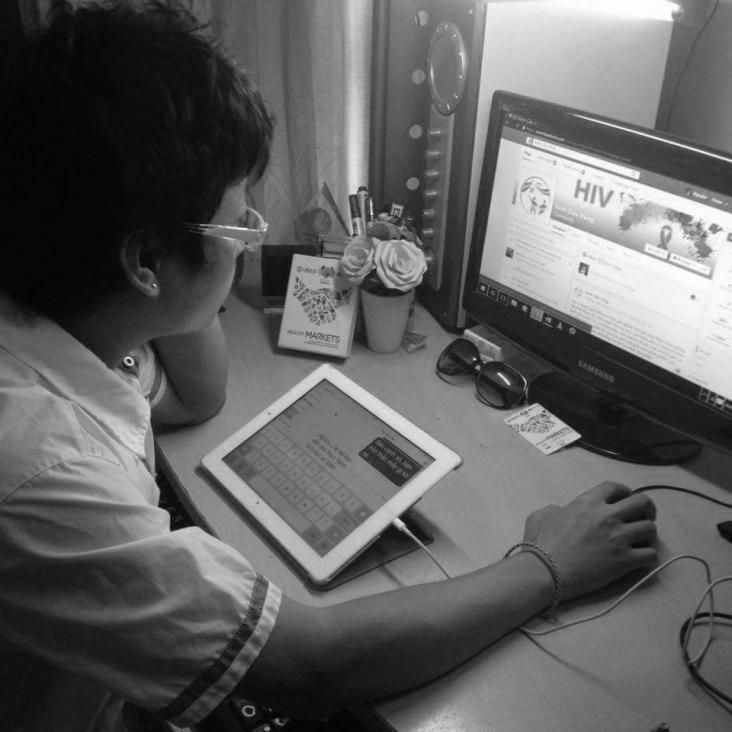 Online counselors bring testing, treatment to the hard-to-reach
"Offering a flexible and fast service, where a connection and counseling can be provided online, is really convenient and comfortable for the clients."
October 2016—In a quiet corner of bustling downtown Ho Chi Minh City, Thu Nguyen Tan starts his working day by logging in on Facebook. His inbox is filled up with messages from young urban men who have sex with men (MSM) and transgender women (TGW) seeking advice on a broad range of issues. Some are seeking guidance on safe sex and HIV protection. Others are interested in accessing HIV testing services, and are unsure where to go or are scared of being judged.
These are real and significant concerns for the MSM and TGW community in Ho Chi Minh City, among which HIV prevalence is estimated to be as high as 18 percent.
No matter what question or concern is raised, Thu is trained and equipped to respond to every single message and provide ongoing follow-up and support to each sender. He can even meet with his clients offline to assist them with accessing HIV testing services.
Thu is one of several online change agents (OCAs) at the core of a new innovative HIV peer outreach model launched by a USAID initiative, Healthy Markets. Launched in October 2015, the initiative is implemented by PATH, a global health organization.
"Social media is an obvious and powerful tool to connect with MSM and TGW, especially those 'hidden' or hard to reach," says Thu. "There are no time or distance barriers. MSM and TGW are comfortable in this space; it's a huge part of their everyday life and this is where they feel free to be themselves. Some MSM and TGW can only be approached on social media, so that is where we need to be for them."
In 2015, Healthy Markets established a Facebook page called Xom Cau Vong (rainbow village) as a much needed open space for MSM and TGW in Vietnam to connect and exchange information on HIV prevention and care. The success of the page is marked by its nearly 110,000 followers. OCAs are now connecting directly with these followers to advance lifesaving behavior change offline. The model represents a new age of peer outreach, where the ability to reach and support clients is unrestricted by time or geography.
"Many MSM and TGW are busy studying or working during the day, and it's more convenient to be tested outside of office hours," says Thu. "Offering a flexible and fast service, where a connection and counseling can be provided online, is really convenient and comfortable for the clients. Being able to follow my clients right through the process ensures that no one is lost along the way."
The OCA model was officially launched in March 2016. The change agents are already having an impressive impact, having counseled over 236 clients—of which 91.5 percent were successfully referred to HIV testing services (including lay testing). Of the referred clients, 14.4 percent were found to be HIV-positive and were supported by the OCAs to enroll in antiretroviral treatment.
The support from OCAs during the testing process is highly valued by clients. "I felt so panicked and collapsed completely when I received a positive result," said K.A., an MSM client in Ho Chi Minh City. "If I didn't have [the OCA] there to encourage and consolidate me, and help me to enroll in treatment, then perhaps I wouldn't be hopeful and alive today."
The OCAs have recently received additional training to deliver HIV testing services directly to their online clients as part of a newly introduced community-based testing pilot. Agents organize offline appointments at a time and offline location convenient for the client. At the appointment, the agent can easily and quickly administer a rapid HIV finger prick diagnostic.
If a client receives a reactive result on the rapid test, the agents can counsel them to get confirmatory testing and—if confirmed as HIV-positive—early treatment. Prior to the pilot, clients had to go directly to offices of community-based organizations or health facilities for counseling and HIV testing. Clients were hesitant to go in person because of fear of stigma and discrimination.
By connecting online MSM and TGW with offline HIV testing services, online change agents like Thu are playing an crucial role in the national HIV response, particularly in reaching an at-risk population that can otherwise fall through the gaps.
LINKS
Follow @USAIDVietnam, on Facebook, on Flickr, on YouTube