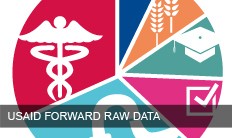 2015 USAID Forward Results
Data Tables
The eight data tables fall into three separate but mutually reinforcing principles that define good development work today. The goals and metrics are reflected in each table.
Deliver results through strengthened capacity
Partner for sustainable development
Unlocking game-changing solutions
Several years ago, USAID set the ambitious task of transforming itself as an agency. This large-scale reform agenda, USAID Forward, is an effort to strengthen the Agency by embracing new partnerships, investing in the catalytic role of innovation and demanding a relentless focus on results. 
To transform this vision into reality, USAID undertook an ambitious reform agenda called USAID Forward, to strengthen the Agency by embracing new partnerships, investing in the catalytic role of innovation and demanding a relentless focus on results. Taken together, these reforms represent the best of American ideals abroad, while advancing the security and prosperity of Americans at home. In line with our commitment to transparency, we are releasing our third set of data detailing USAID's results for 2015.
USAID Forward At a Glance
The reforms are focused on three main areas:
Deliver results on a meaningful scale through a strengthened USAID. In order to maximize our impact with every development dollar, we have to pursue a more strategic, focused and results-oriented approach, from strengthening our policy and budget management to enacting a world-class evaluation policy.
Promote sustainable development through high-impact partnerships and local solutions. In order to achieve long-term sustainable development, we have to support the institutions, private sector partners and civil society organizations that serve as engines of growth and progress for their own nations. USAID Forward embraces new models for public-private partnerships and increased investment directly to partner governments and local organizations.
Identify and scale up innovative, breakthrough solutions to intractable development challenges. At USAID, we have a strong history of partnerships with the scientific community that helped pioneer some of the greatest successes in development to date. USAID Forward furthers this legacy by strengthening our work with scientists, researchers and universities, investing in new technologies to source and scale game-changing solutions, and supporting mobile solutions to dramatically expand opportunity.
Forward Progress
The Agency made significant progress since USAID Forward was first announced in 2010.
Deliver results on a meaningful scale through a strengthened USAID
True to our commitment to strategic, performance-based planning, USAID completed 60 of a total of 62 Country Development Cooperation Strategies, representing the majority of USAID Missions.
Evaluations inform decisions including designing follow-on projects, making mid-course corrections, developing country strategies, scaling-up projects, budget allocations and other related decisions. Worldwide, we've completed over 1,000 evaluations by external teams. To learn more about evaluation at USAID, please click here.
Stronger Local Partners through Direct Engagement The percentage of Mission staff engaged directly with local partners overseas continued to grow in 2015 building on continuing efforts at direct engagement with a host country government, regional entity, or a local nongovernmental organization or commercial organization. Missions have learned that direct engagement yields results and are using a broad range of approaches, including:

direct training to build capacity (financial, procurement, reporting);
joint program monitoring and field trips; and
operation manuals on how to work with USAID.

Building a Mentoring Culture in USAID USAID's Mentoring Program enhanced the professional development of more than 900 staff over the past fiscal year with a planned increase of 10% per year. Since the program's inception, the number of participants in the mentoring program has increased on average 25% annually. This progressive increase has occurred as Missions have begun to see mentoring as a critical element in helping achieve their strategic goals.
Promote sustainable development through high-impact partnerships and local solutions
We are partnering directly with local governments, the private sector, civil society, and academia to ensure that local systems own, resource, and sustain the development results in which we invest. Since 2010, we have tripled the percentage of our funding obligated through local governments, civil society partners, and local businesses. Overall, we obligated 27% of our funding to local actors in FY 2015, including cash transfers and qualifying trust funds. Our Local Solutions investments have demonstrated evidence of progress, local resourcing, and sustained results, for example:

In Peru, enrollment in Alternative Development interventions, such as planting alternative crops, land titling, and community development, increased from 13,000 to 70,000 households from 2011-2015. USAID worked with Peru's National Commission for Development and Life without Drugs to build their capacity. As USAID funding declines, the Government of Peru is increasing its investment from $15 million in 2011 to $38 million annually in 2014/15.
In western Georgia, the 148.8 kilometer East-West Natural Gas Pipeline was completed, providing a more reliable supply of natural gas to homes and industries. This partnership with the Georgia Oil and Gas Company, through which USAID provided $61.7 million, was part of a broader effort towards a viable and multi-functional energy sector in Georgia. USAID also invested $34.6 million in assistance to the Georgia State Electro-Systems to decrease power outages and reduce transmission losses. For these collaborative, post-conflict reconstruction efforts, USAID invested $96 million and local counterparts over $186 million highlighting local ownership of results.
In Tanzania, 50,000 more households access electricity because of Off-Grid Electric (OGE), a local USAID Development Innovation Venture grantee. OGE has raised $16 million in equity financing with an additional $7 million from the International Finance Corporation and its partners. While 85% of Tanzania continues to live off the national grid, OGE is partnering with the Government of Tanzania to bring affordable electricity to 1 million homes by 2017.

USAID continues to capitalize on increased foreign direct investment overseas by seeking opportunities to engage the international and local private sector in realizing development objectives through tools such as Development Credit Authority (DCA) and Public Private Partnerships.

In FY 2015, USAID Missions leveraged commitments of $400 million in private sector resources for new Global Development Alliances (GDAs), i.e. partnerships with at least 1:1 cost sharing. Over the course of USAID Forward, USAID Mission GDAs leveraged over $1.5 billion in new resources from the private sector towards our development goals. These partnerships not only make our budgets go farther, they also bring the unique expertise and assets of the private sector to make our work more efficient and effective.
USAID also began supporting a broader range of private sector engagement approaches, including large multi-stakeholder alliances such as Power Africa and the New Alliance for Food Security and Nutrition, which USAID serves as a catalyst for private sector investment. For example, Power Africa brought together over 100 private sector partners, mobilizing more than $20 billion in private sector commitments to invest in power generation and distribution across Sub-Saharan Africa.
Since the launch of USAID Forward, the DCA has surpassed former fiscal year benchmarks and has continued to make historic gains in the Agency's Private Capital Mobilization efforts. The size and impact of USAID's DCA credit guarantees more than doubled within the last four years ($2.5b) compared to the first 11 years of DCA activity combined ($1.7b). In FY 2015 alone, through DCA guarantees, $695 million of private capital was made available in support of USAID's development objectives through 46 guarantees with 45 financial partners.
Identify and scale up innovative, breakthrough solutions to intractable development challenges
We are fostering a culture of innovation and using our convening power to source, test, and scale breakthrough innovations to solve development challenges. USAID's U.S. Global Development Lab embodies this effort to increase the application of science, technology, innovation, and partnerships to achieve, sustain, and extend the Agency's development impact. For example, we continue to foster the growth of digital financial services, which accelerate financial inclusion, help fight corruption, and catalyze private sector development.
USAID has fostered over 420 development innovations through the U.S. Global Development Lab, improving the lives of over 24.5 million people.
We are bringing new perspectives to long-standing development challenges: with over 10,000 applicants for innovation grants, 60 percent of which had never before received USAID funding and 25 percent of Grand Challenge applicants coming from developing countries.
Related Links