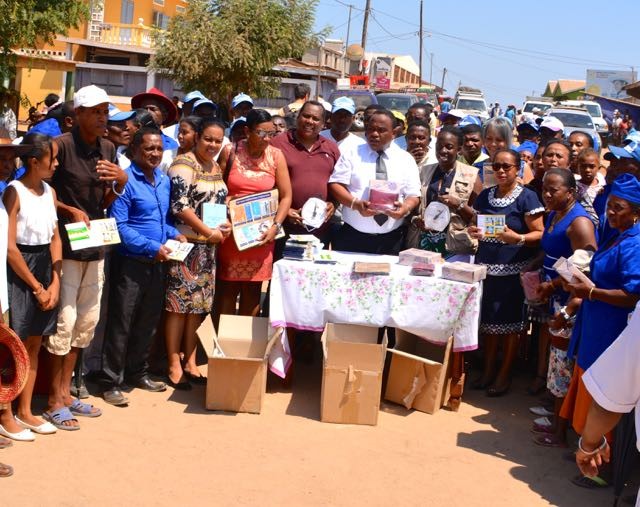 For Immediate Release
Thursday, September 14, 2017
Antananarivo -  Local health care in seven regions of Madagascar is getting a boost, with the donation of $400,000 in materials and equipment to community health volunteers (CHVs) by the United States Agency for International Development (USAID) and the USAID Community Capacity for Health Program, known locally as Mahefa Miaraka.
The equipment will help the nearly 10,000 CHVs in Mahefa Miaraka's target regions provide improved health services. The items include   awareness-raising materials, management tools, and equipment for community-based integrated child support, nutrition monitoring, and family planning services. An official handover ceremony was held in Belo sur Tsiribihina, Menabe region.
In support of the Ministry of Public Health's efforts to reduce morbidity and mortality among mothers, newborns, and children, due to preventable causes, the Mahefa Miaraka program, strengthens healthcare across seven regions of Madagascar (Analanjirofo, Boeny, DIANA, Melaky, Menabe, SAVA, and Sofia). This includes strengthening the capacity of the public sector to plan, deliver, and manage community health services, as well as revitalizing community involvement in health. Mahefa Miaraka is a 5-year, $30 million project implemented by JSI Research & Training Institute, Inc. (JSI) in collaboration with the Ministry of Public Health.
Recently, the Ministry of Public Health updated the National Community Health Policy, which should provide a new momentum for supporting communities to participate in local development, and improve health at the grassroots level. In the coming years, Mahefa Miaraka will support the Ministry of Public Health's efforts to consolidate community healthcare. The program aims to promote equal access to quality local services, to maintain continuity of care between the community level and the primary care facilities, and to ensure basic health care services are delivered effectively and sustainably at the local level.